SAVE $200 WHEN YOU ENROLL IN THE NEXT:
YOUR DOWNLOAD IS ON IT'S WAY TO YOUR INBOX
But one more thing before you go…
HOW WOULD YOU LIKE TO BUILD A PROFITABLE LEATHERGOODS BUSINESS AND GET PAID TO DO WHAT YOU LOVE?
I'D LIKE TO OFFER YOU A CHANCE TO ENROLL IN, LUCRATIVE LEATHERCRAFT FOR $200 OFF THE REGULAR PRICE.
In the course, you'll learn how to find THE RIGHT CUSTOMERS, HOW TO PROMOTE AND SELL and finally become a SUCCESSFUL BUSINESS OWNER making sales, month after month.
SOUNDS GOOD, RIGHT? YEA, I THOUGHT SO.
3 Steps to building your business
STEP #1 WATCH THE VIDEO LESSONS
STEP #2 DO THE WORK IN THE ACTIONABLE WORKBOOKS
STEP #3 IMPLEMENT THE STRATEGIES IN YOUR BUSINESS AND WATCH YOUR BUSINESS GROW.
Finally learn how to build a successful business that you love!
ENROLL IN THE NEXT 20 MINS AND GET $200 OFF OF THE REGULAR COURSE PRICE!
THINK ABOUT IT
When it comes to your business, you don't want to wing it.
IT'S MUCH SMARTER TO IMPLEMENT STRATEGIES THAT YOU KNOW ACTUALLY WORK
DETERMINE WHAT IT IS THAT YOU HAVE TO OFFER AND WHO WANTS IT

CONNECT WITH THE PEOPLE WHO WANT WHAT YOU HAVE - YOUR TRUE CUSTOMERS

PROMOTE YOUR PRODUCTS TO YOUR CUSTOMERS WHO REALLY WANT THEM

FINALLY MAKE CONSISTENT SALES MONTH AFTER MONTH
Finally learn the strategies for targeting the right customers…
The ones who love your leathergoods and
HAVE THE MONEY to buy!
YOU'VE TRIED IT ALL
You've read the blogs, listened to podcasts, downloaded all of the freebies, and you're still totally lost!
Actually lost AND confused.
You see other leathersmiths easily selling their leathergoods, and you're scratching your head thinking, "what the heck am I doing wrong?!"
You've tried every trick in the book, but nothing seems to be bringing you more sales.
Ever wish someone would just give you the freaking BLUEPRINT already for getting a profitable handmade business up and running!
Imagine what it will feel when you finally start making sales..
and you continue to increase your sales month after month?
WILL YOU BE ABLE TO...
Work from home and spend more time with your family?
Pay your bills a little easier each month?
Get out of debt?
or just be able to buy more tools and materials!
The dream is achievable once you know how to get there.
You're ready to start your leathergoods business but you've got questions!
"How do I find customers who want to buy my leathergoods?"
"How do I price my products ?
"How do I use social media as a business tool to market my products?"
Hey, I've been there!
I've been just as confused, which is why I created LUCRATIVE LEATHERCRAFT, the course that teaches you exactly how to create a successful leathergoods business from the ground up.
No more figuring it out the hard way and taking the long road to get there!
THE BUSINESS SYSTEM FOR LEATHERSMITHS
With a focus on: Planning, People and Promotion to gain CONSISTENT sales month after month
You bring your AWESOME LEATHERWORKING SKILLS and leathergoods and i'll bring you the BUSINESS STRATEGY that will allow you to start making connections with your ideal customer and making sales month after month.
***Just a heads up… You will not see the price this low EVER again.
Lucrative Leathercraft is what you've been missing.
Before the course
You're losing money on material and labor because you have very low sales.
You feel like it is a constant struggle to find customers who aren't turned off by your prices.
You're frustrated because you don't know how to market your business and get the word out.
You really have no idea how to use social media to get infront of your ideal customer and build a loyal following.
After the course
Using the Lucrative Leathercraft system of steps, you know exactly how to market your business and make sales.
You're targeting your ideal customer - the one who values your work and has money to buy! Whoo hoo!
You're confidently using social media to build realationships and promote your products to your target audience.
You've got extra cash coming in every month and you're finally doing what you love to do.
Lucrative Leathercraft Course Outline
DETERMINE YOUR BRAND PURPOSE AND SUPPORTING BUSINESS GOALS AND INTENTIONS.
GET CLARITY ON YOUR BUSINESS GOALS SO YOU FINALLY HAVE A STRATEGY FOR ACHIEVING THEM AND SUCCEEDING.

FEEL LIKE YOU'RE FOCUSED ON WHAT YOU WANT SO THAT YOU CAN TAILOR A PLAN OF ATTACK FOR HOW YOU'LL ACCOMPLISH YOUR GOALS.

DETERMINE YOUR "WHY" FOR STARTING A BUSINESS SO THAT YOU'RE ABLE TO ANSWER FUTURE BUSINESS DECISIONS QUICKLY AND EASILY.

FINALLY HAVE A CLEAR PATH AND DIRECTION FOR HOW TO GET YOUR BUSINESS OFF THE GROUND.

WHEN YOU KNOW WHERE YOU'RE GOING, YOUR CUSTOMERS WILL FOLLOW YOU.
SET UP SHOP AND GET CLARITY ON WHICH ECOMMERCE PLATFORM IS BEST FOR YOU.
FEEL CONFIDENT IN YOUR CHOICE OF ECOMMERCE PLATFORM TO USE AND WHY IT'S THE BEST FOR YOU

CHOOSE A PLATFORM WITH THE LOWEST FEES AND THE BEST ECOMMERCE FEATURES THAT WILL HELP YOUR BUSINESS TO GROW AND PROSPER.

MAKE AN INFORMED DESCISION OF WHERE YOU'RE GOING TO PLACE YOUR PRODUCTS AND WHAT THE BEST CHOICE IS FOR YOU AND YOUR BUSINESS.
DISCOVER WHO YOUR CUSTOMER REALLY IS AND HOW TO MAKE THEM FALL IN LOVE WITH YOU.
FINALLY GET THE RIGHT KIND OF TRAFFIC COMING TO YOUR WEBSITE ON A REGULAR BASIS.

WORK WITH PEOPLE WHO ACTUALLY VVALUEWITH YOU DO AND ARE BEGGING FOR IT.

CRAFT MESSAGES AND COPY THAT IS SPECIFICALLY DIRECTED TOWARDS YOUR IDEAL CUSTOMER - THE'LL FEEL LIKE YOU'RE TALKING RIGHT TO THEM AND FALL IN LOVE WITH YOU.

LEAVE THE BARGAIN SHOPPERS AND PEOPLE WHO COMPLAIN ABOUT YOUR PRCIES BEHIND BECAUSE THEY'RE JUST NOT YOUR IDEA CUSTOMER AND THEY'RE KIND OF A BUZZ KILL.

LEVERAGE SOCIAL MEDIA TO FIND YOUR COMPETITION SO YOU CAN MAKE FRIENDS WITH THEIR BEST CUSTOMERS.
CRAFT SALES COPY BASED ON YOUR CUSTOMER THAT WILL SELL YOUR PRODUCT FOR YOU.
CREATE DESCRIPTIONS AND TITLES FOR YOUR PRODUCT LISTINGS THAT ARE SO SPECIFIC AND RESONATE WITH YOUR IDEAL CUSTOMER THAT THEY'LL BE BLOWN AWAY BY HOW WELL YOU KNOW WHAT THEY WANT.K

cOVERT YOUR BROWERS INTO BUYERS WITH SALES COPY THAT SPEAKS ABOUT THE BENEFITS OF YOUR PRODUCTS RATHER THEN THE FEATURES.

FINALLY GET ACROSS TO YOUR CUSTOMERS EXACTLY WHY THEY NEED WHAT YOU HAVE AND WHY IT'S SOO MUCH BETTER THEN WHAT THE COMPETITION IS OFFERING, EVENIF ITS THE SAME DANG THING!
BLOW THE PROFITABLE PRICING MYSTERY WIDE OPEN.
UNDERSTAND THAT A HIGH PRICE IS NOT THE REASON WHY PEOPLE ARE NOT BUYING AND VOW NEVER TO UNDER-PRICE YOUR PRODUCTS AGAIN. EVER.

BE INFORMED AND FEEL CONFIDENT ABOUT YOUR PRICING STRATEGY

PRICE YOUR PRODUCTS FAIRLY AND PROFITABLY - YES YOU CAN DO BOTH!

NEVER LET A BARGAIN SHOPPER TWIST YOUR ARM AND MAKE YOU FEEL LIKE YOUR PRICES ARE TOO HIGH EVER AGAIN.

IT'S NOT YOU, IT'S THEM!
DEVELOP A PRODUCT PROMOTION PLAN THAT SHOWS YOUR IDEAL CUSTOMERS HOW AMAZING YOUR BUSINESS IS AND WHY THEY SHOULD SHOP WITH YOU.
CREATE A MARKETING PLAN FOCUSED ON MOVING YOUR LEATHERGOODS BUSINESS FORWARD TOWARDS ACHIEVING YOUR GOALS THAT YOU SET IN SECTION 1

CREATE OPPORTUNITIES TO ATTRACT YOUR CUSTOMER WITH EVERY SOCIAL MEDIA POST, EMAIL THAT YOU SEND TO YOUR SUBSCRIBER AND EVERY INTERACTION

IMPLEMENT THE BEST AND MOST EFFECTIVE WAYS TO MARKET YOUR LEATHERCRAFT PRODUCTS TO YOUR IDEAL CUSTOMER IN MEANINGFULL AND STRATEGIC WAYS.
MEASURE HOW FAR YOU'VE COME AND DETERMINE HOW TO CONTINUE TO GROW MONTH AFTER MONTH.
ANALYZE THE PROGRESS YOU'VE MADE SO FAR ON YOUR GOALS

LEARN HOW TO CONTINUE TO STAY ON TRACK AND GROW YOUR SALES MONTH AFTER MONTH

KNOW HOW TO PIVOT AND TWEAK YOUR PROMOTION PLAN WHEN YOU GET OFF TRACK.

LEARN HOW TO SCALE AND WHEN IT'S TIME TO RAISE YOUR PRICES
Enroll today for access to these bonuses
GET THE MOTIVATION TO KEEP MOVING YOUR BUSINESS FORWARD
Support & Community
"yes, you're doing it right, keep on going"
Sometimes that's all you need to hear, right? And sometimes you need more focused 1 on 1 support.
In Lucrative Leathercraft you are supported throughout the entire course with a private course community and live Q&A sessions where you can get all of your business questions answered.
I'M IN!
(SAVE $200 WHEN YOU ENROLL NOW)
WHAT'S INCLUDED?
LIFETIME ACCESS TO LUCRATIVE LEATHERCRAFT
7 COURSE SECTIONS
COURSE WORKBOOK
24/7 ACCESS TO THE PRIVATE COURSE COMMUNITY
LIVE Q&A GROUP SESSIONS
*Plus an additional payment of $224
**You will not see the price this low ever again.
COMPLETE THE COURSE FROM HOME AND ON YOUR OWN SCHEDULE!
YOU'RE THE BOSS!
All you need is a computer and an Internet connection.
The entire program is completely digital so you can access it anywhere at any time by logging into the private course portal.
So go at your own pace!
WHEN TO EXPECT RESULTS
How long does it take to finish the course?
It really depends on you and how much time you want to spend building your business each week. Most students complete the course over 7 weeks, working about 2 - 4 hours / week.
However, some students with less time in their schedule, choose to take a few extra months to get their leathergoods business up and running.
But do you know what the really GOOD NEWS IS?
The good news is that you have LIFETIME ACCESS to the program AND ALL FUTURE UPDATES, which is awesome for you!
So go at your own pace and remember, it's not a race.
There has NEVER been a better time to start
How long have you been BROKE or lingering at a job that you HATE?

How long have you had an idea for a business that you wanted to start?

I'm guessing a long time, right?

Why wait months for LUCRATIVE LEATHERCRAFT enrollment to open up again?

Why put yourself that far behind your competition?

Start building you dream business today, and turn your expensive leatherworking hobby into a LUCRATIVE BUSINESS in a matter of weeks.
"Is this course right for me?"
It's right - Go for it!
You want to ATTRACT YOUR IDEAL CUSTOMER and develop products that they actually want to BUY.

You want to price your products so that you make a PROFIT with every sale.

Your current sales are $0 or few and you want to INCREASE YOUR SALES using strategies and methods that work.

You have limited time in your schedule and you want to use it as STRATEGICALLY and EFFICIENTLY as possible.

You're a go-getter and willing to put in the work that it takes to get your business off the ground!
Sorry, this course is not for you..
You're NOT QUITE CONFIDENT enough in you leathercraft skills yet.

You DON'T really want to build a business and would rather keep your leathercrafting as a hobby.

You're NOT MOTIVATED to put in the work to earn the extra cash that will allow you to create a life that you love.

You're pretty COMFORTABLE IN YOUR CURRENT COMFORT ZONE and do not see your self venturing out of it too far.
Are you ready to take action and build a successful leathergoods business, so you can get to work doing what you love to do?
WHAT WOULD IT BE WORTH TO YOU...
If you could say GOODBYE to your biggest problems like...
Wondering who your ideal customer is and where you can find them.
Feeling confused about what to post on social media.
Stangant to no sales.
How to price your leathergoods so you're making a profit.
General confusion when it comes to making any business decisions because you don't have any goals and don't know what you're trying to accomplish.
It's your choice, friend... 
Stay stuck and frustrated or get the specific blueprint for how to create a PROFITABLE leathergoods business straight out of the gate.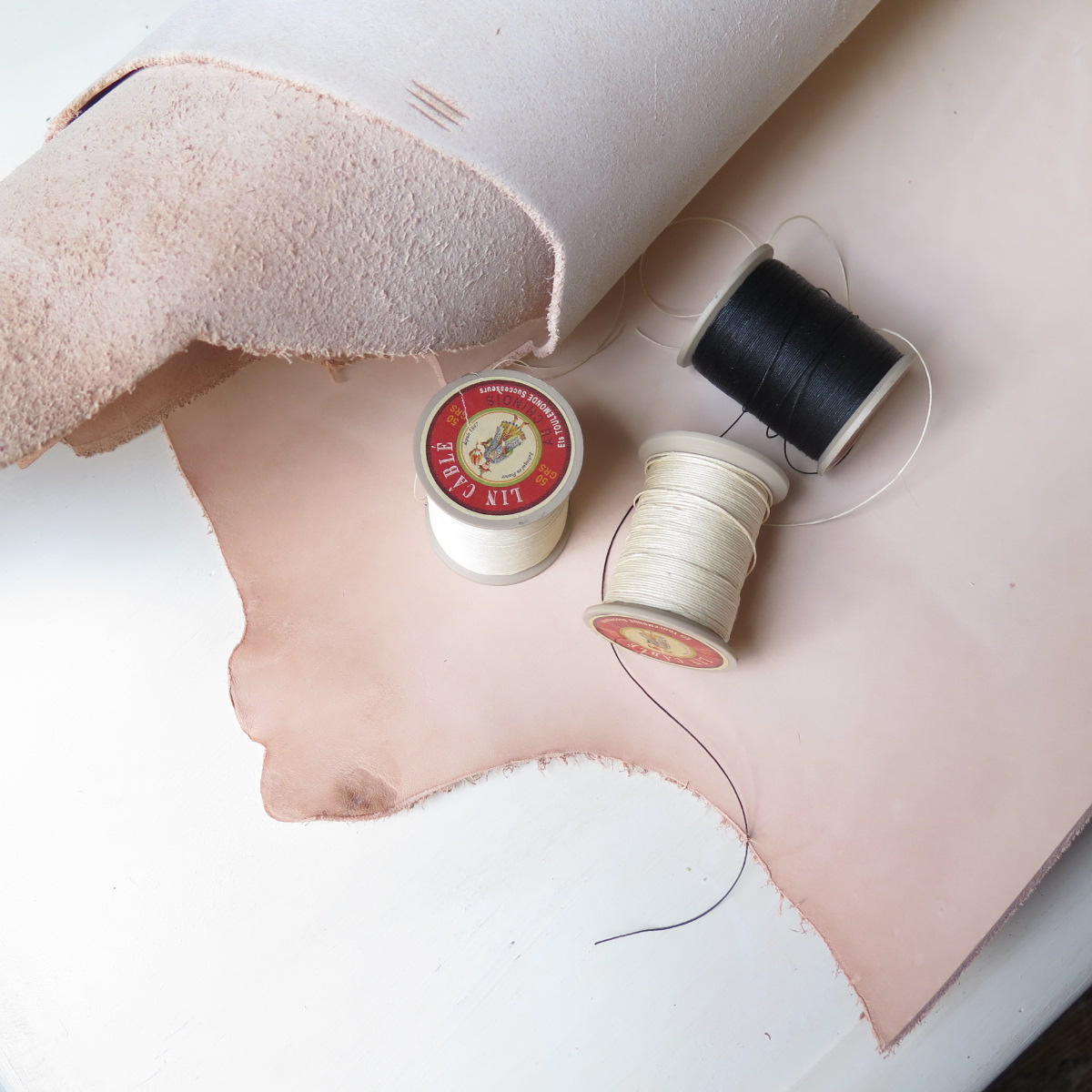 BROKE, BUSY AND KNOW NOTHING ABOUT BUSINESS?
Even if you're suffering
from the 3B's, you can do this.
"I don't have money to invest in starting a business."
The good news is that there is barely any overhead or financial investment required!
Just ask yourself, how many leathergoods would you have to sell to make back the price of this course? My guess is less then you can count on both hands.
"I don't have time."
This course is actually a time saver, my friend!
You'll save so much time by cutting out all of the trial and error!
Get started laying the groundwork so that in a few weeks you can start reaping the benefits.
"I know nothing about how to start a business."
Well then you're in the perfect place, aren't you? With Lucrative Leathercraft, you'll get a system of steps taking you through the 3 phases: laying the groundwork, implementing steps and scaling your business.
Also, bonus! All trainings come from the angle of assuming there is no prior knowledge.
I'M IN!
(SAVE $200 WHEN YOU ENROLL NOW)
WHAT'S INCLUDED?
LIFETIME ACCESS TO LUCRATIVE LEATHERCRAFT
7 COURSE SECTIONS
COURSE WORKBOOK
24/7 ACCESS TO THE PRIVATE COURSE COMMUNITY
LIVE Q&A GROUP SESSIONS
*Plus an additional payment of $224
**You will not see the price this low ever again.
100% MONEY-BACK GUARANTEE
I wholeheartedly believe in the Lucrative Leathercraft course, and have many satisfied students but I want you to feel confident in trying it out for yourself! That's why I have a 100% Risk Free Guarantee. You can try Lucrative Leathercraft for 1 week, and if decide that it isn't for you, just ask for a full refund before midnight, within the 1st week of purchase and I will happily issue a 100% refund. To read the full refund policy, CLICK HERE.
I'm in! What happens next?
#1: ENROLL
Enroll in LUCRATIVE LEATHERCRAFT by clicking the enroll button above.

Enter your billing and payment info at checkout.

Click submit and check your inbox for a confirmation email that you've been enrolled in LUCRATIVE LEATHERCRAFT.
#2: ACCESS THE COURSE
Click the link in the welcome email to access the course.

Access the prework assignments immediately and get ready to get to work.

Join and introduce yourself in the course community
#3: BUILD A BUSINESS
Receive access to Section 1 on Monday 9/3 and a new section each Monday until you've received all sections.

Attend the bi-monthly live Q&A calls for support and to get your questions answered.
Hey, i'm Mary!
And I help leathersmiths like you create profitable businesses so you can wake up every morning and be excited to get to work.
For you that might mean being able to quit your BORING DAY JOB.
Or it might mean bringing in extra $$ each month to supplement your day job.
But I know one thing for sure…
BEING IN CHARGE OF YOUR OWN BUSINESS AND INCOME POTENTIAL IS WHAT IS GOING TO ALLOW YOU TO CREATE A LIFE THAT YOU LOVE.
I've been a maker and a seller of my own handmade goods since 2008 and over the last decade i've created multiple small businesses online, at the biggest craft fairs and i've also sold my work to multiple stores and boutiques in New York City.
SO I KNOW A LITTLE SOMETHING ABOUT STARTING A HANDMADE BUSINESS.
I want to share all of the things that i figured out about running successful businesses over the last decade so I designed Lucrative Leathercraft to do just that.
I hope you'll join me so I can help you finally create a Lucrative Leathercraft business tailored specifically to your own life goals and dreams.
No matter what anyone else says…You can do this!
FAQs
Q: Who is Lucrative Leathercraft for?
Lucrative Leathercraft is for the frustrated leathercrafter who has been spinning their wheels for years, trying to get their business off the ground with no luck. It's for the leatherworker that has read the blogs and articles about setting goals, and marketing to the ideal customer, but for some reason it's still not working. It's for the leatherworker that has been wanting to start a business, but they just don't know what to focus on first and in what order. It's for the leatherworker that is looking to put in the work to make a massive impact in their business and life.
Q: Can you help me to see the value of Lucrative Leathercraft? I mean, it's a lot of money to spend.
What you get when you enroll in Lucrative Leathercraft is not just some video modules and a workbook. Yes you do get these things, but you're also getting the result which is making sales.
How much would it be worth to you if you got some traction and started making $500/mo or more in sales?

How much would it be worth to you if you increased your sales month after month to $1k, $2k or more?

How much would it be worth to you if you could create a business where you're in charge of your day, your schedule and your life?

How much would it be worth to you if you could quit that 9-5 job or just one of your many part-time jobs?
THAT is where the VALUE of Lucrative Leathercraft comes in.
If you think about this being a 6-month investment, it's just $3/day to be getting the strategy and support to create massive change in your life.
Q: When does the course start?
Once you enroll, you will have access to LUCRATIVE LEATHERCRAFT immediately. You can get started on the prework. Section one will be sent to you the Monday after you enroll and then an additional section each Monday until you've received all sections. The bonus material will be available 30 days after enrollment. You'll be on your way to putting into place strategys that work to maximize your sales.
Q: How long is the course?
The live course will run for 7 weeks, with 4 live coaching calls happening during that time. Over the next 7 weeks you'll create your specific business goals, set up your online shop, determine who you ideal customer is, create product listings that sell and learn how to price your products and promote them to your ideal customer. You also have lifetime access to the course and to course community.
Q: Do I get lifetime access to the course material?
Yes, you have lifetime access to the course and lifetime access the the support that you receive in the course community! You'll also receive any updates that I make to the course.
Q: What is the time commitment per week?
This is a self-paced course so it is totally up to you and your schedule. I do recommend staying on task and completing all of the lessons each week which on average requires between 2-4 hours/week.
Q: I've never started a business before. Is this the course for me?
There are no prerequisites other than having a basic knowledge of how to use a computer. This course was especially designed to efficiently cover all of the basics of setting up your shop and assumes that you have no prior knowledge with business or marketing. That said, it is also appropriate for anyone who has recently launched their own side hustle and are not happy with their results, read: no sales. If you've had a business going for a few years with no luck, chances are you need to address your business foundation and go back to basics.
Q: Are there any other material or equipment costs besides the enrollment cost of the course?
Yes, be prepared for some small upfront costs associated with starting a small business. Please note that there are many different companies that provide these tools with varying prices. The below price ranges are estimates and may vary.
ecommerce shop ($0-$30/mo)

email service provider ($0-$30/mo)

domain purchase ($10+)

bookkeeping software ($0 - $9+)
Q: I've never taken an ecourse. How does it work?
Once you enroll, you will be sent a link to the course where you'll be prompted to create a password. You will be able to log into the course at any time, no matter your time zone and complete the lessons at your own pace. You will also have lifetime access to the course and any updates that I make to the course.
Q. what if I have questions? Do I get support, community and access to you?
Yes, I want to make sure you get results and always get your questions answered. There is a private members only Facebook group where I'll answer questions. I'll also host live Q&A support calls where you can submit your questions and interact with myself and other students.
Q. What is the refund policy?
I have a 100% Risk Free Guarantee. You can try Lucrative Leathercraft for 1 week, and if you aren't satisfied, just ask us for a full refund before 11:59pm Eastern US Time before the 7th day after purchasing and I will happily issue a 100% refund. To read our full refund policy, click here.
Q. What are the payment options?
I accept major credit cards and Paypal as payment options. There is also a monthly payment plan available.
Q. If I can't join this launch, when will the next launch be?
To be honest, i'm not sure when it will launch again. If you put yourself on the waitlist it's a good way to not miss any announcements and save your spot for the next course launch.
Q. I have more questions. What should I do?
Please email me! I'm happy to answer any questions that you have! I respond to all emails personally. Email me directly at info@leatherbeast.com.
INVEST IN LUCRATIVE LEATHERCRAFT TODAY!
AND SAVE $200 OFF THE REGULAR PRICE!

Hurry offer ends soon!